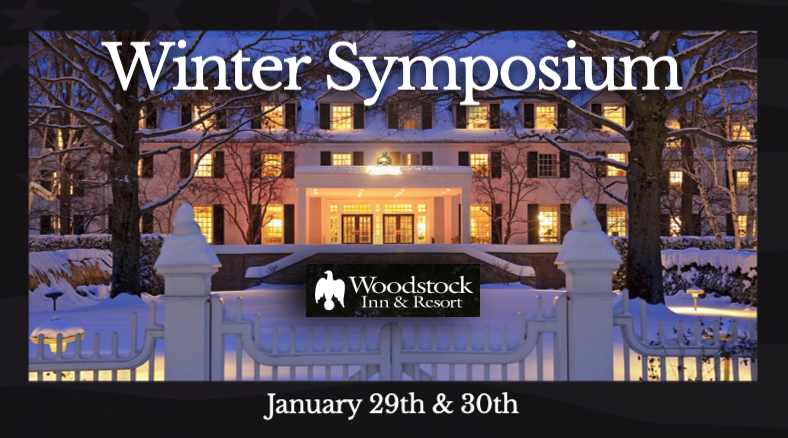 ---
Notice: As of 1/24/23, Registration is now Closed for this Event
---
Winter in Vermont is so beautiful, but nothing compares to Winter at the Woodstock Inn. Join the VPA and the Center for Creative Leadership for rejuvenating, engaging, and meaningful professional learning. The VPA is bringing you a new cozy winter event with the Winter Symposium at the beautiful Woodstock Inn. 
Who: The target audience is school leaders, central office administrators, athletic directors, and aspiring school leaders
When: The evening of Sunday, January 29th & Monday, January 30th
Cost: $435 per participant. The cost includes 9 hours of professional learning, all related session materials, Sunday evening snacks, breakfast and lunch on Monday. The cost does not include any overnight accommodations.
January 29th, Sunday Evening: Participants will gather in the Rockefeller room for networking and a BOOM session from 6:30pm to 8:00pm. The BOOM session will feature 6 different presentations about an outstanding and exciting practice direct from a school leadership colleague. Each presenter will have 8 minutes to share about an innovative and effective practice that is in place in their school setting. Sunday evening will also have finger food available at the event, a cash bar, and because it will be NFL championship weekend, there will be plenty of access to the games for anyone who wants to watch football.  
Schools That Learn: Building a Culture of Continuous Improvement with Rick Dustin-Eichler–Principal at Dothan Brook School
Student Leadership Positions within the School: Providing Opportunities for Service, Interest, and Community Building with Cara Houston–Assistant Principal at Randolph Elementary
On Belonging, with Adam Bunting–Principal at Champlain Valley Union High School
Community and Family Outreach, with Melissa Suarez–2021 New Hampshire Principal of the Year
Learning and Doing More on Indigenous Peoples' Day, with Jennifer DeSorgher of Missisquoi Valley School District
CTE: Changing the Narrative, with Jody Emerson of Central Vermont Career Center
January 30th, Monday: Participants will have breakfast available beginning at 7am. From there, participants will attend full-day sessions of their choosing. Lunch will be provided mid-day and we plan to have people on the road around 3:15pm on Monday afternoon.
Session Option #1: Better Conversations Every Day
Facilitators: Mike McRaith and Lauren Thomas
Thanks to the Center for Creative Leadership & the Waddington Initiative, Better Conversations Every Day is the world class leadership workshop that we are now able to offer right here in Vermont. Led by our own VPA, nationally trained, Center for Creative Leadership © certified, local leaders, BCE delivers high quality practical skills for leaders to improve effectiveness and relationships. Testimonial: "It promotes the development of a deeper skill set for educators to use when engaging in conversations, resulting in more productive, respectful and effective communication. The segment around intention versus impact was particularly powerful and supported our previously developed school based norms. We highly recommend this training as this skill set can be used across settings with all audiences." (-Deb and Jen, Fair Haven Grade School Administration). You can learn more about this highly valued and highly rated content at Better Conversations Every Day, CCL
Sessions Option #2: Organizational Workshop (Recommended for Waddington Leadership Alumni)
Facilitators: Greg Cameron, Susan Reinecke, and Marin Burton of the Center for Creative Leadership 
Educational leaders are constantly tasked with managing multiple intersecting systems, systems of parents, community members, staff and faculty, all while remaining focused on student growth and success. Schools are now being recognized as being "learning organizations." This workshop content will help identify the seen and the unseen dynamics of organizations and offer an opportunity for robust discussion around the systems inherent within their schools. The Organizational Workshop provides a practical, hands-on experience that brings to life perspectives of power and leadership in organizations. It is designed to give participants an opportunity to learn what life is like inside an organizational system. The OW involves a variety of learning activities: simulated experiences, organizational debrief, interactive presentation, dialogue about life in the organization, and opportunities for application through observation and team coaching. Using a systemic lens, participants see systems and relationships more clearly and are invited to think and act more systemically. Copyright 2008-2010 Power + Systems Inc. All rights reserved.
Session Option #3: Ted Lasso Lessons in Leadership
Facilitators: Erica McLaughlin and Jay Nichols
Positive culture shaped by school personnel has never been more important and lays the foundation for everyone's success. Participants in this session will be inspired to apply 8 high leverage, research based practices from Ted Lasso and other great leadership researchers to optimize your school culture where everyone thrives. We will take a look at Ted Lasso's play book of knowing your Why, Trusting and inspiring, Relationships  matter, Learning, Growing and Winning together, Effective Communication, Vulnerability, Collective Efficacy and Servant Leadership. Participants will engage in reflection, dialogue with colleagues and laughter.
---
Outline Schedule
Sunday, the 29th

4:00pm

Check-in for participants staying overnight   

5-6:30pm

Dinner, on your own

Woodstock Inn Dining Options

,

Area Dining Options

6:30-8:45pm

Boom Welcome Session, Social Hour

Rockefeller Room

Monday, the 30th

7:00 – 8:00am

Breakfast

Rockefeller Room

8:00 -11:30pm

Morning Session

Woodstock Ballroom Breakouts

11:30 – 12:15pm

Lunch

Garden Parlor

12:15 – 3:15pm

Afternoon Session

Woodstock Ballroom Breakouts
---
FAQs
What about cost? The VPA has worked with Woodstock Inn and the Waddington Leadership Initiative to help keep costs down for this event. By holding the event on a Sunday evening and Monday, the Woodstock Inn was able to offered a much reduced rate for use of the venue and the room reservations ($239). The Waddington Leadership Initiative has helped to significantly supplement the costs of the materials and the facilitation. Note: As of 1/11/23, the Woodstock Inn rooms are fully booked. We recommend exploring the many nearby options in the Woodstock area.
Do I need to stay overnight at the Woodstock Inn on the 29th? No, but there will be rooms on hold for participants attending this event at about a 40% reduced rate.
Will any of the sessions be hybrid in case I can't attend in person? No, these sessions will be available as in-person only on this occasion.
---
Cancellation Policy: For all Vermont Principals' Association professional learning events, the VPA must be notified of any cancellations no later than 10 days prior to the event. Cancellation notifications received after the 10 day deadline will be subject to a fee of 50% of the total cost of registration.