---
Academy Home  — Session Descriptions — 2023 Schedule — Registration
---
Strand Path or Workshops Path? Participants at the 2023 academy will have the option to choose a strand path or the workshops path during their registration.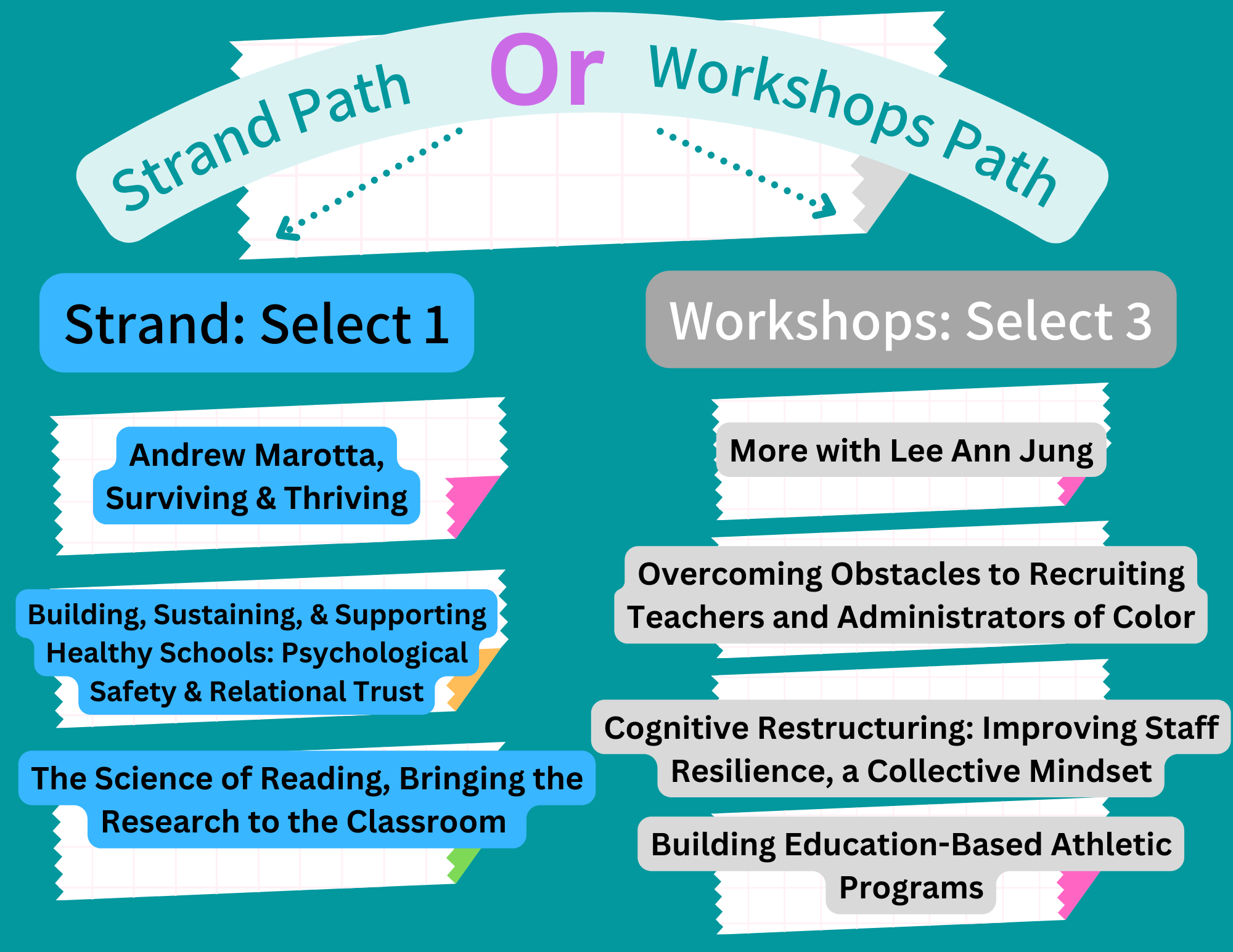 ---
The Strand Path is: Participants choose between 1 of the following 3 strands and spend each of your breakout sessions with the same presenter on the given topic, for a total of 6 hours.
Strand Choice 1: Surviving & Thriving with Andrew Marotta:  Education Leadership & Beyond
(6 hour strand, Tuesday Afternoon & Wednesday)
From presence to time ownership to action, to energy & enthusiasm, and ending with successful vs. significant. Come join Andrew Marotta in this high-energy, fun leadership strand surviving & thriving as a school leader. Topics will include, The Power of Storytelling: the what, the how, the where, the who, and THE WHY! The most underrated skill of the best leaders. You will hear impactful stories, learn storytelling skills, and craft your WHY of storytelling to reach your many different audiences in many different settings. Strand participants will also focus on–YOU: Living your best self above the line. What are the best doing? In this culminating activity, Andrew and the audience will collaborate and share best practices to live our lives of leadership & service ABOVE THE LINE.  Participants will be up, writing, sharing, and reflecting on this deep exercise of leadership.
Strand Choice 2: Building, Sustaining, and Supporting Healthy Schools: Psychological Safety and Relational Trust with Susan Reinecke & Micela Leis
(6 hour strand, Tuesday Afternoon & Wednesday)
This strand, courtesy of the Center for Creative Leadership and the Margaret Waddington Foundation, will introduce you to new ways of thinking about cultivating an emotionally healthy environment that will nurture the adults in your building and aid in teacher retention. Participants will: Learn research-based frameworks for psychological safety and relational trust, participate in experiential activities that deepen their personal understanding, leave with a guidebook with tools and suggestions for implementation.
Strand Choice 3: The Science of Reading: Bringing the Research to the Classroom with Julie Christensen, Senior Director of Curriculum at Waterford
(6 hour strand, Tuesday Afternoon & Wednesday)
What does neuroscience tell us about how the brain learns to read? What does educational research tell us about effective reading instruction? Answering these questions and putting our students on the path to reading success is more important now than ever. Success in the 21st century requires strong literacy skills, yet NAEP scores tell us that far too many of our students are unprepared.  Learn how to bring the research into the classrooms in your district. The content of this strand will outline the details of a structured literacy approach that aligns with the science of reading. We will explore how to support your teachers in embracing these approaches and what to look for during classroom observations as evidence that students are receiving instruction that is research-based and effective.
---
The Workshops Path is: Participants who select the workshops path in registration will have the opportunity to pick their top 3 selections (out of 4 choices) of workshops to attend and spend their breakout sessions attending their 3 different selections. Each workshop will be 2 hours.
Workshop Option 1: More with Lee Ann Jung (Tuesday PM only)
For participants who are interested in hearing more from our keynote speaker, Lee Ann Jung will offer these additional two hours in a workshop format. She will share more in depth about her work with Lead Inclusion and how to ensure that all students are our students.
Workshop Option 2: Overcoming Obstacles to Recruiting Teachers and Administrators of Color with Warren Reid of Nemnet (Tuesday & Wednesday)
This workshop will focus on the challenges, best practices and strategies associated with diversifying faculty and staff recruitment. It will leverage over 20 years of diversity recruitment experience and is designed to empower individuals and institutions with information and resources to maximize their recruitment efforts. It will provide a framework for change and future work.
Audience:  All individuals directly involved in and responsible for faculty and staff recruitment, as well as School Leadership, HR Managers, Diversity Practitioners and Board Members.
Content Covered:
Diversity Recruitment Obstacles and Challenges
Supply Sources
Recruitment Finance 101
Leveraging Technology & Social Media
Resume and Interview Bias
Participants will:
Learn how to implement best practices and proven diversity recruitment strategies
Leave with concrete tangible tips and strategies along with a comprehensive plan to address their individual obstacles and needs
Take the NEMNET Minority Recruitment Assessment Test to assess individual and institutional obstacles and needs.
Workshop Option 3: Cognitive Restructuring: Improving Staff Resilience, a Collective Mindset with Dr. Joelle van Lent and Erica McLaughlin (Wednesday Only)
Your school's resilience in part depends on its collective mindset of your staff. Join us to learn about improving resilience through a proven practice of Cognitive Restructuring. The school community is a place where children and adults can learn and thrive together. This is particularly true in schools where there is attention AND intention in cultivating a supportive environment. This is a crucial time to lean in on strategies that will support this effort. Adults will only be their best selves when they are in a safe trusting work environment, where all members of the school know they matter and are committed to not only care for themselves, but also to that of the greater good. Cognitive Restructuring is a technique that helps people identify inaccurate and negative thoughts and changes them to be more accurate and hopeful.  
Workshop Option 4: Building Education-Based Athletic Programs that Support the Needs of Diverse Populations (Tuesday & Wednesday)
What separates school athletic programs from club teams? Education. Our student-athletes learn important life skills that can create lifelong healthy habits by participating in extracurricular activities. This workshop will highlight the importance of education-based athletic programs. It also aims to have an open dialogue about challenges in athletics from hiring coaches, supporting the mental health of our student-athletes, and creating and maintaining positive experiences through your athletic program. This workshop will highlight and address various challenges that Vermont state athletic directors face and how as a building leader, you can support and foster strong leaders in your buildings.
---
Academy Home  — Session Descriptions — 2023 Schedule — Registration